One of our consistent and relentless allies in radio is Billy Zero at XM Radio. When we get back east, we try to hook up with him as often as possible.
11/6/02 visit http://www.xmradio.com/programming/xm_feature.jsp?ch=52&id=56 For all of the lucky people that have XM, tune into channel 52 "Unsinged" on Nov. 6 around 1 or 2 in the p.m. (EST)
Comes With The Fall will be doing a ONE (1) HOUR INTERVIEW hosted by Unsigned Program Director, Billy Zero!
The guys have some "special" things planned just for XM and it's listeners including a couple of autographed CD's that they will be giving away! For more info:
http://www.xmradio.com/programming/xm_feature.jsp?ch=52&id=56
Take a look here too:
http://www.xmradio.com/programming/xm_feature.jsp?ch=52&id=55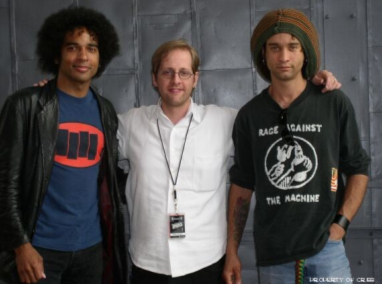 Here's the account by Claudia J. (who also took the pictures) when William and Adam stopped in for another visit, on 6/14/03:
(XM RADIO'S) Unsigned has a new program that they do every Thursday called 67:89. They have a 1-2 hr segment that is music with a common theme. It could be music by women only, or all acoustic, whatever. They like it best when bands come on and do the whole show. They turn it over to them and let them play whoever they want as long as they are unsigned or on independent labels.
The guys warmed up to the idea and they decided to do the show on the DVD. They called it "comes with the fall radio". The flow between them on what to talk about was amazing. Adam was like OK this, this and this happened and William was like yeah, yeah and we can talk about that and that...it was so cool! They worked it out so that William did the intro and introduced the tracks, and they both talked about what went on in the process of making the DVD and other stuff.
Billy (Zero who is the Program Director & XM Guru) is going to add some of the audio from the interviews too. William did a great job as DJ! This should air in a couple of weeks. And XM wants CWTF to do it again in about 3 months."